I'd love you to participate in some of my upcoming events!
7th Annual 5 Arts Outdoor Show, September 25 & 26 in Wynantskill
–
A fall arts and craft show! Outdoors, barn, open air, sheep, weaving, ceramics, goat milk soaps  I'll have my hand printed scarves and bags for you or for gifting!
Art In Public Places show from Saratoga Arts
I was scheduled to show at the Saratoga Library in September, but the show is now virtual.
Our September series of Art in Public Places virtual shows will be on view through the end of the month. Throughout the duration of the exhibits we will be highlighting individual artists.
Today we are highlighting a piece which shows the raw beauty of Kathy Klompas's photography and monotypes from her series titled, Organic Alchemy, Printmaking and Photography. You can view Kathy's full online exhibit here => https://www.saratoga-arts.org/kathy-klompas/
Organic Alchemy – Feathers and Leaf
monotype
10″x13″ framed
$225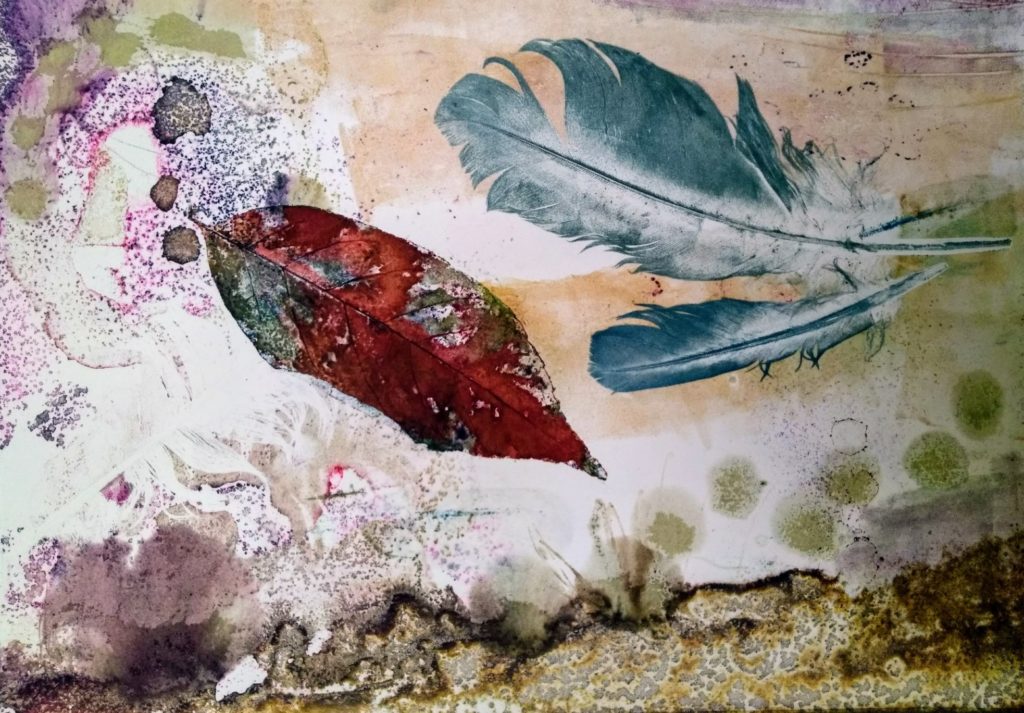 Classes in Schuylerville and Clifton Park
On Wednesday, October 7: 10am – 1pm, I'll  be teaching a workshop in Printing On Tote Bags.
Use simple mark-making techniques, gelli plate printing and stamping to design your own signature totebag. After creating a textured background , create your own foam stamps, or sample from the provided assortment, to further embellish your bag. All supplies provided, but consider bringing a sketchbook to test ideas and spread excess paint for later creating an art journal.
Saratoga Arts has registration located here
Open Studio in Cohoes
Ragged Edge Printmaking Studio is a fully equipped facility in Cohoes designed to support print makers and other image creators in a collegial, collaborative environment.   Many have used our resources, including a Martech Etching Press, to complete their own projects, or have joined the studio to access a comfortable and supportive working environment.   We often offer classes on demand in subjects from scarf printing to clay printmaking, or encourage other teachers to use the facility for their own classes.
If you are interested, contact us at RaggedEdgePrintStudio.com
Work for Sale
My work is available at Micropolis Gallery in Gloversville, at Pause Gallery in Troy and in the Gallery Shop at Saratoga Arts.    I'll also be showing at other locations closer to the holidays, so stay tuned!
Please be in touch!
If you would like to contact me, I'd love to hear from you.
[contact-form][contact-field label="Name" type="name" required="true" /][contact-field label="Email" type="email" required="true" /][contact-field label="Website" type="url" /][contact-field label="Message" type="textarea" /][/contact-form]